Big fall in new car sales in Northern Ireland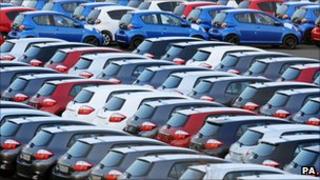 The number of new cars being sold in Northern Ireland is falling, according to the latest figures.
Statistics on the number of new car registrations are often used by economists as an indicator of trends in consumer confidence and spending.
The latest data on new vehicle registrations shows that in the second quarter of this year just over 12,100 new cars were registered.
That is a fall of 13% on the same period last year.
It is also a drop of about 27% on the previous quarter.
The fall is being blamed on a combination of high fuel prices, falling disposable incomes and low consumer confidence.
The figures have been published by the Department for Regional Develoment.