Community police officer helped Castlerock prostitute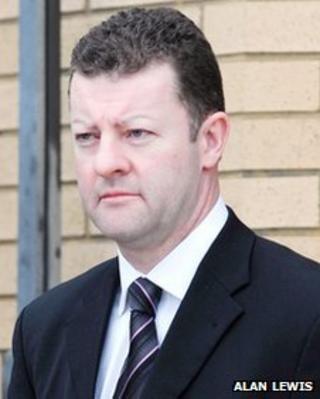 A former award-winning PSNI officer has been convicted of tipping off a prostitute that police were about to raid the brothel she worked in.
Chris Murdoch, whose address was given as Coleraine Police Station, pleaded guilty to obstructing a colleague in the course of his duty in June 2008.
He will do 200 hours community service.
The 44-year-old admitted he was in a relationship with a Thai woman who lived in the suspected brothel on Main Street, Castlerock.
He had faced the more serious charge of perverting the course of justice but pleaded guilty to the lesser offence last month.
Between May and June 2008 an investigation by the PSNI Professional Standards Department revealed the community police officer's involvement with the woman.
Vilified
Antrim Crown Court heard that Murdoch phoned the woman over 100 times in a 10-week period.
He was then subjected to an "integrity test" where an undercover police officer called him at Coleraine Police Station claiming to report the brothel in Castlerock.
After passing on the information to a more senior colleague and being told not to talk about the matter outside the station, Murdoch called the woman telling her that the police were on the way to her home.
He was arrested the same day and during the course of over 20 interviews claimed he had no knowledge of the brothel and only knew the woman through his work as a community police officer.
However, during his final interviews Murdoch admitted having a physical relationship with the woman, that he knew she was a prostitute and knew the address was being used as a brothel.
He also admitted calling the woman to find out how many customers she had, how much money she had made and delivering her groceries.
Murdoch's defence solicitor said he had fully accepted his guilt and had lost his job and his reputation as a result of his actions.
She said he had been vilified by the community he had formerly served, including being shouted at in the street and having graffiti written about him on walls in Coleraine.
The judge said the defendant "thoroughly deserved a custodial sentence of some sort" but after reading a probation report and taking into consideration the affect this has had on his family, she ordered 200 hours community service.