Queen's University to charge GB students £9,000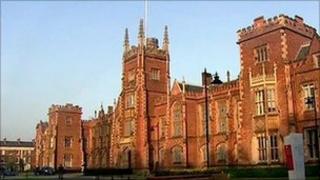 Students from Great Britain who want to study at Queen's University will be charged up to £9,000 per year.
It is the highest fee a university can charge for students from outside Northern Ireland.
But GB students who get at least two As and a B at A-level will be entitled to a bursary of £2,500 a year to offset the cost.
Fees for Northern Ireland students have been frozen at their current level of £3,500 a year.
The Senate at Queen's met on Friday to set the fees for students from England, Scotland and Wales.
As well as those with two As and a B, those getting the grades required by the university will be entitled to a bursary of £1,250 each year.
However, medicine, dentistry and pharmacy, which demand very high grades, will not be eligible for the bursary.
Although fees for Northern Ireland students have been frozen, there will be some bursaries for high flyers.
The number of students Queen's is allowed to accept is capped but, in future, students from Great Britain will not count in the total, therefore leaving more places for local applicants.
About seven per cent of the university's 3,500 intake last year was from Great Britain.
It is understood the University of Ulster is planning fees of between £6,000 and £8,000 a year for GB students, but details are expected next week.