Maghera family afraid to stay in home after garden collapses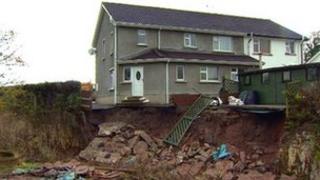 A Maghera man has said his family are afraid to stay in their home after their back garden collapsed following two days of torrential rain.
The garden which backs on to a fast-flowing river gave way at the property on the Glen Road on Tuesday.
Kieran Flanagan said the foundations took about 15 seconds to collapse.
He said if anyone had been in the garden at the time they could have been killed or seriously injured.
"We're totally scared at the minute because the foundation of the house is sitting here and we're waiting on this whole thing to collapse, but in saying that we're getting lots of help from all the councillors," he said.
"We're just waiting now until next week to see what we will do about it."
A meeting involving councillors and local agencies is due to be held to look at repairing the damage.