Derry woman beaten up by partner after TV comment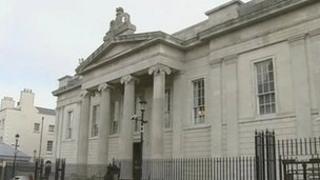 A Londonderry woman suffered a broken nose, broken toe, rib fractures and a broken finger when she was beaten by her partner, a court has been told.
Mark McNulty, 34, denies grievous bodily harm of his partner in their Ivy Terrace home on Saturday night.
He also denies causing criminal damage to her household effects.
The alleged assault took place when the victim made a comment about a man on a show when she and the defendant were watching television.
A police officer told District Judge Barney McElholm that after the alleged prolonged assault the woman grabbed a knife and ran from her home to a nearby garage and telephoned the police.
He added that Mr McNulty was released on court bail in September for allegedly assaulting the same woman.
The accused was refused bail and remanded in custody until 10 November.