Death threat against drug accused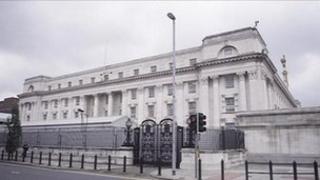 A man charged in connection with a £230,000 cocaine and ecstasy seizure had his life threatened, the High Court heard on Monday.
Andrew Wilson-Smith, 31, was warned he or his family would be harmed if he refused to deliver a mystery package, according to his lawyer.
Mr Wilson-Smith of Elmwood Cottages in Newtownabbey is charged with possession with intent to supply and conspiracy to supply Class A drugs.
He was released on bail.
He was arrested with two men and a woman after two cars were stopped on the Grosvenor Road, west Belfast on 19 October.
A solid block of suspected cocaine, valued at £30,000, was recovered from a Ford Focus being driven by Mr Wilson-Smith, prosecutors said.
Searches were then carried out at each of the four suspects' properties, with an estimated £200,000 worth of drugs allegedly found at the woman's home.
The haul included 2.5 kilos of suspected cocaine, 1,000 ecstasy tablets, a quantity of diazepam and documents including customer lists.
'Sinister'
He was granted bail on tight conditions, including a requirement for his businessman father-in-law to put up a £10,000 cash surety.
The court was told Mr Wilson-Smith claimed to be acting under duress because he owed money to someone he refused to identify.
He alleged that he was given a mobile phone and told to arrange to collect a package without knowing its contents.
Kate McKay, prosecuting, said: "He maintains his story that he was paying off a drug debt by collecting from unknown people on behalf of his debtor.
"He refused to name the debtor or value of the debt. He admitted using £500 a week cocaine, but denied having a habit and said his wife did not know."
Defence lawyer, James Johnston argued that his client had been used by "more sinister elements" because of his clear record.
"He received a death threat a number of months ago delivered to him by police," the barrister added.
Granting bail, Lord Justice Girvan also ordered Mr Wilson-Smith to report daily to police, surrender any passports and participate in a drug addiction programme.