Twenty-six charged over protests at Twelfth parade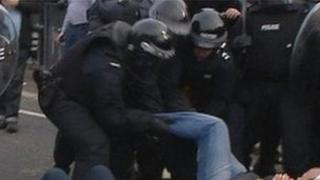 A sit-down road protest at the scene of a disputed Orange Order march in north Belfast breached a Parades Commission determination, a court has heard.
Ronnie Pedlow, the former secretary of the commission, said objectors at Ardoyne were restricted to footpaths.
He was giving evidence as a case opened against 26 people charged with obstructing lawful activity in a public place during a 12 July march in 2010.
The case against a 27th man was withdrawn.
A teenager is to face Youth Court proceedings over the protest.
At least four of the accused were not in attendance when the case, which is listed for five days, got under way at Belfast Magistrates' Court.
The charges are being defended on the basis that residents and campaigners were involved in a peaceful sit-down protest which flouted no determination.
Mr Pedlow told the court the restrictions imposed on bands and lodges passing Ardoyne shops on their return march included having no more than 30 supporters, no flags or emblems of proscribed organisations, and no sectarian or provocative behaviour.
Laughter broke out among defendants packed in the public gallery as a further prohibition on drinking alcohol was outlined.
The court heard details of two separate bodies operating in the area, the Crumlin Ardoyne Residents' Association (CARA) and the Greater Ardoyne Residents' Coalition (GARC).
It was set out the prosecution intends to prove the protest at the centre of the case was led by GARC.
'Restrictions'
But Mr Pedlow said he could not give a definitive answer about who was involved.
He also told the court that Parades Commission monitors were asked to pull out of the area due to unrest before the parade had passed.
Following cross-examination by a series of defence lawyers, a prosecutor asked if the determination on CARA's static peaceful protest authorised a sit-down which obstructed a road.
Mr Pedlow replied: "No. The commision's code of conduct and how the commission would place restrictions on it, would expect that any protest does not take place on a carriageway, but would take place on a footpath.
"The commision would have met with CARA in the run-up to its consideration of the protest and would have heard from CARA about how it would intend to hold the protest.
"They indicated they were holding a protest on the pavement and the commission accepted that.
"To take a protest on the carriageway would be against the commission determination."
The case continues.