Rapist lured Facebook friend to Wiltshire shed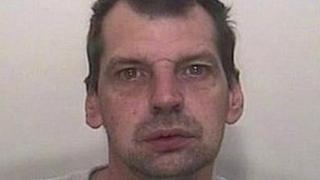 A rapist from Belfast has been jailed for life for an attack on an old friend who contacted him through Facebook.
William Jameson, 48, with an address at Finchampstead, Berkshire, lured the woman to a shed in Wiltshire, in November 2010.
He bound and gagged her, told her she was going to be a "sex slave" and, after raping her, he left her tied up with a rope around her neck.
He was jailed for life at Swindon Crown Court in England on Monday.
The court heard that the 31-year-old woman had met him when they were on a computer course in Ireland. She did not know that he had a history of violence.
She contacted him via the Facebook site and he invited her to England.
When she arrived, he tricked her into going to the shed where he forced her to the ground and tied her up with electric cable.
The court heard that he put a gag in her mouth and tied a rope around her neck and started to strangle her.
Begging to be freed she offered him money to leave her alone, but he raped her.
Escape
It was only when he went outside to answer a phone call that she managed to escape.
After Jameson was arrested, police searched his home and found he had more than 1,500 images of violent sexual child abuse on his computer.
He pleaded guilty to rape, false imprisonment and ten counts of making indecent images of children.
At Swindon Crown Court this week, Recorder Peter Blair QC jailed Jameson for life telling him he posed "a considerable risk of serious harm to the public."
Jameson, originally from north Belfast, had previously been jailed in 1986 for the attempted rape of an eight-year-old Belfast girl. He tried to kill her by hitting her over the head with a breezeblock.
After he was released from jail, Jameson moved to Dublin where in 1999 he was jailed for six years for abandoning another man who later died from strangulation and suffocation following a sado-masochistic sexual activity.
Jameson was originally charged with manslaughter but later pleaded guilty to recklessly engaging in conduct in which there was a danger of death.
He then moved to England where the attack later took place.