Man accused of attempted murder after Belfast stabbing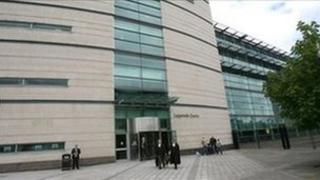 A man has appeared in court accused of trying to kill a woman in Belfast.
Archibald Foster, 60, faces a charge of attempting to murder Elizabeth Dalzell at a location in the north of the city on Sunday.
The victim is understood to have been stabbed at least twice, although her injuries are not life threatening.
The accused, who was granted bail at Belfast Magistrates' Court, must comply with a curfew and alcohol restrictions.
The court was told that he is alleged to have told her: "If I can't have you, no one can."
A police officer said she could connect Foster, of Alliance Road, Belfast, with the alleged offence.
He is to appear again before the court in December.