Occupy Belfast protest has 'no negative impact': Dean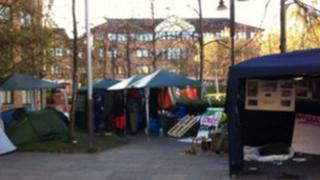 The Dean of St Anne's Cathedral has said an anti-capitalist protest outside the building is not having a "negative impact" on its work.
Reverend Canon John Mann said he was in regular contact with the Occupy Belfast protesters.
They have set up a camp opposite the cathedral on Writer's Square.
His comments follow the resignation of two senior clergymen from St Paul's Cathedral in London, following a larger protest outside its doors.
The Dean of St Paul's, the Right Reverend Graeme Knowles, stepped down on Monday and a part time chaplain, Rev Fraser Dyer, has also resigned.
It followed weeks of demonstrations outside the cathedral by Occupy London Stock Exchange protesters, which led to the building being closed for several days.
'Worldwide movement'
However, Rev Mann said the same issues did not exist in Belfast.
"The people have been over and spoken to us and we have been over and spoken to them. We have shared things that they needed to borrow," said Rev Mann.
"I haven't felt any negative impact."
One of the protesters, Ryan, said the demonstration had "nothing to do with St Anne's" or with "the church".
"It isn't just to do with Belfast or London. This is a worldwide movement," he added.
"We are here because of the logistics of it.
"Outside the stock exchange or Invest NI for example we just have solid ground. Here we have grass and room for expansion.
"We are on public property."