Peter Robinson wary over global economic influence on Northern Ireland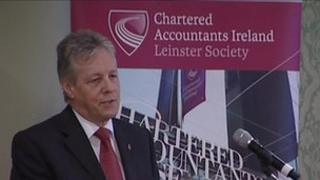 The first minister has warned that Northern Ireland cannot afford to take a "parochial" view on economic events.
Mr Robinson said people might think what's happening in Greece is far away and not their problem but it does have a significant impact.
The first minister was addressing a group of chartered accountants in Dublin.
He said: "We are living in a global economy and what happens in one part of the world impacts on Northern Ireland."
While Mr Robinson said he personally could not understand the decision of the Greek prime minister not to inform his European partners about his intention to hold a referendum, he said he believed the Irish government was taking the right steps in dealing with the economic crisis.
Mr Robinson said "defaulting on agreements is economic madness".
Referring to the Republic's refusal to negotiate increasing the corporation tax rate, he said it shows how important the low rate is to the Republic's foreign direct investment.
He said he would have liked a positive outcome by now for Northern Ireland on the devolution of corporation tax, and encouraged the government to take the decision and decide the right price in relation to the block grant.
He said: "You cannot on the one hand say it's essential to increase the private sector and reduce the public sector without giving us the tools to do it. No one else is coming up with other options or alternatives."
On potential public sector strike action over changes to pensions, he said he understood workers were on the horns of a dilemma, but he urged resolution through discussions and not "self-destructive" strike action.
Mr Robinson also told the BBC: "We have long passed the stage where we can be parochial in these matters.
"We have to look at all of those around us. We are living in a global economy and what happens in one part of the world will have an impact on Northern Ireland.
"We can do so much but we cannot have the impact that we might like to have on those global events."