Northern Ireland Water and department talks to continue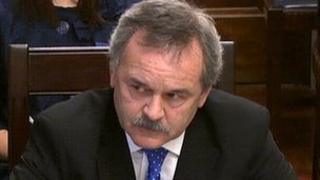 Crisis talks between NI Water and the Regional Development Department are set to continue as the company tries to stop its chief executive from leaving.
Trevor Haslett is acting chief executive but has no permanent contract in that role.
It is understood he wants a two-year deal with an increase in salary from £130,000 to £150,000.
It is up to Regional Development Minister Danny Kennedy to approve a deal which he has so far refused to do.
Mr Haslett replaced previous boss Laurence MacKenzie who resigned in January following last year's water crisis.
A spokesman for the Department for Regional Development said no letter of resignation has been received and that the board is in discussion with Mr Haslett and is keeping the minister informed.
Mr Kennedy met the company chairman, Sean Hogan, on Thursday morning. Any changes or new appointment will require Mr Kennedy's approval.
Mr McKenzie is understood to have been paid around £250,000 a year while Mr Haslett's package is about £130,000.
'Peanuts'
Leading recruitment professional Ian Rainey believes relatively poor pay and conditions are going to make it difficult to find a suitable replacement for Mr Haslett.
"Northumbria Water is about the same size as NI Water and the chief executive's package is about £350,000," Mr Rainey said.
"In fact the number twos, the HR directors and the finance directors, are being paid more than £130,000 so I think we are paying peanuts."
The government-owned company was set up in 2004 and its status was later modified so it also became a non-departmental public body.
Earlier on Thursday, DRD committee chair Jimmy Spratt said: "One of the issues we will be pressing is that there will be some sort of continuity and leadership at this level, particularly over the winter period.
"Stability is needed I think given the changes that have been made.
"Trevor Haslett was providing that stability in terms of leadership, we will be looking to make sure that leadership continues."
Mr Spratt added that he was not aware of any political interference in the organisation.
"I think in relation to the structures that (they) have been inherited by the Northern Ireland Executive from direct rule," he said.
"It's a legacy of that."
Mr Haslett was formerly head of engineering with NI Water and previously worked as a director of a private civil engineering company.
He is the third chief executive to resign from the post.
As well as Mr MacKenzie in January, after what First Minister Peter Robinson described as the company's "shambolic" response to the big freeze, Katherine Bryan resigned in 2008 following controversy over a funding shortfall.