What Thursday's papers say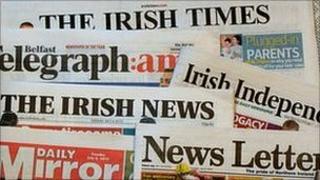 Journalist Mike Philpott takes a look at what is making the headlines in Thursday's newspapers.
We start with how our diet is killing us.
It is a report from the British Medical Journal, which has found that nearly a thousand deaths a year could be delayed or averted if we adopted the same diet as people in England.
The research found that people in Northern Ireland consumed more calories, fat and salt and not enough fruit and vegetables.
The News Letter concentrates on the economy, and in particular on a speech by the First Minister, Peter Robinson.
He told an audience in Dublin that short term measures were no way to deal with a grave financial crisis.
He is quoted as saying that Northern Ireland had particular problems, including "an over reliance on public sector employment".
The Irish News devotes its comment column to the allegations of child abuse at two hospitals, a story it broke a week ago. It says an inquiry alone is not enough, and the Health Service "needs to examine its structures and attitudes".
The crisis in the Eurozone is a major talking point once again.
It is the lead in the Independent, which says Greece has been told that all EU financial aid will be cut off unless it votes Yes in a surprise referendum called by the Prime Minister, George Papandreou.
The paper adds that Athens is under pressure from France and Germany to hold the vote within six weeks.
The Irish Times says the stakes have been raised dramatically, and the referendum is now effectively a choice over whether Greece wants to remain in the Eurozone.
The Times in London says the G20 summit in France, which starts today, had been planned as a rubber-stamping exercise, but now instead of spreading calm, there is panic. The Independent says it could make or break the world economy.
Challenge
Several papers have the remarkable story of the UK's oldest sisters.
They have a combined age of 308, and as the Daily Mail reports, it is not every woman of 97 who has two older sisters to look up to. But Mary Hunt's sister Jean is 104 and the eldest, Hilda, is 107.
The Daily Express points out that they have lived under 19 prime ministers, five monarchs and endured two world wars. They have 12 children, 17 grandchildren and 29 great-grandchildren. Hilda's daughter Elizabeth tells the paper that family get-togethers at Christmas can be a bit of a challenge.
And another example of longevity turns up in the Mail.
It reports that a 111-year-old Christmas pudding has turned up at the back of a cupboard in Dorset.
It was originally sent as part of a Christmas parcel to soldiers serving in the Boer War. Sadly, nobody will be eating it.
It is thought to be inedible after so long in contact with its tin container, so it is going to a museum instead.