Golden underwear and silver stages - MTV awards build-up continues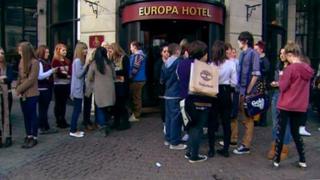 As fans queue up outside Belfast's hotels awaiting a glimpse of their music idols, BBC Newsline's Natasha Sayee looks at the backstage preparations ahead of this weekend's MTV European Music Awards in Belfast.
Well it is really happening now - Bruno Mars is in the city and more celebs are expected to arrive in Belfast later - including Justin Bieber, Jessie J and Selena Gomez.
The stars will be whisked away to their hotels, but don't forget they are going to have to rehearse, and not all of them can do that at the Odyssey Arena, so there will be rehearsals popping up all over the city.
The MTV set at the Odyssey is still very much a work in progress, but it is starting to take shape, with two chic silver stages and glamorous seating areas.
The red carpet is out at the car park at the back of the building, but it is all covered over with the biggest of marquees.
The entourages are arriving, and BBC Newsline has had a peek at the general wardrobe area.
It is a huge room, with hundreds of outfits.
The wardrobe girls are stitching away, running into Belfast shops for the last minute odds and ends - one of them was ironing golden underwear, but they couldn't tell us who it was for.
I did spot a Gaga-esque white feathered mask and of course everyone will be wondering what the lady is wearing, but the staff in the general wardrobe don't know yet either.
"I haven't got a clue but I predict it will be something amazing, she'll come with a whole entourage of people, so we probably won't even see her, nevermind alter her outfits, although it would be amazing if we did," said Jo Foster, a wardrobe assistant.
Our access was heavily monitored by MTV and we couldn't even take a picture of the stage, because they don't want to ''ruin the surprise'' and so far the dressing rooms are also off limits to us, although I'm hoping we'll get a peek into one of those on Saturday.
Springwater from Fiji
I caught up with catering staff who provide the stars with beverages and snacks in their dressing rooms.
They say they have the requests, but so far there's nothing really strange, just the usual ones for a certain champagne, although some of the stars have requested springwater from Fiji!
The canteen was a massive industrial operation, with dozens of chefs preparing to feed the celebrities and the 1,000 staff who will be working on the site.
The head chef Chris Desmond hopes everyone will get a taste for Northern Irish food.
"We're using local suppliers from vegetable, meat and cheese companies, we've got a selection of local lamb, local beef and fish and we're really happy with the quality," he said.
"Everyone used to think Irish food was just potatoes, turnips, cabbage, but it's not like that anymore, we've got some terrific produce in and around Belfast and we're making the most of it."
Away from the Odyssey, final preparations are also taking place for the other MTV gigs on Sunday.
Red Hot Chilli Peppers are taking the stage at the Ulster Hall, while Snow Patrol and Jason Derulo will perform with City Hall as a backdrop, with the music beginning at 18:00 GMT.
At City Airport, fans have been queued from 04:30 GMT on Friday to catch a glimpse of their favourite stars, but who will be coming through?
You'll have to watch BBC Newsline at 18:30 GMT to find out.