Snow Patrol say Belfast MTV awards will be 'emotional'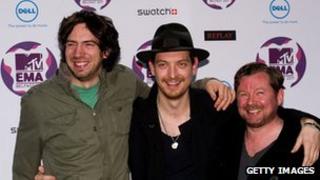 Snow Patrol's lead singer has said Sunday night's MTV concert at the City Hall will be "emotional".
Speaking at a MTV press conference on Saturday, Gary Lightbody, said he was excited to be performing in his home city.
"I will probably lose my mind at some point," he said.
"It will be really emotional - it already is. Walking around Belfast at the moment - it doesn't know itself."
Builders, set designers and staff to the stars are putting the final preparations in place for the concerts.
Fans gathered outside the Odyssey arena from the early hours of Saturday morning.
Crowds also spent the day at hotels in the city in the hope of catching sight of stars such as Justin Bieber and host Selena Gomez arriving.
20,000 music fans are expected in Belfast for the awards which have attracted a host of major stars.
Jessie J, Lady Gaga and Coldplay are among the artists set to perform.
Jason Derulo will join Snow Patrol on the stage at Belfast City Hall while Red Hot Chili Peppers will play the Ulster Hall.