5,402 outstanding arrest warrants in Northern Ireland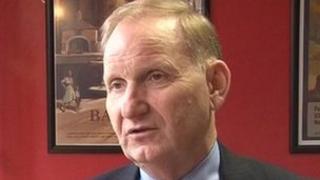 There are currently more than 5,400 outstanding arrest warrants in Northern Ireland, 4,503 of which were issued more than 12 months ago.
The figures were contained in a written assembly answer from Justice Minister David Ford to a question from the DUP's Maurice Morrow.
In addition there are four European arrest warrants outstanding.
Lord Morrow described the figures as "nothing short of disturbing" and said crime victims were being let down.
"There are potentially dangerous criminals at large and it appears nothing has been seen or heard of them for some considerable time," he said.
"People don't just vanish so there must be some trail which leads to their capture and subsequent appearance before the courts.
"We need to know the reasons for these shocking figures.
"Is it a lack or resources to hunt out those wanted by the law, or has apathy set in and there is no desire to bring these people to justice? Or have they absconded from the jurisdiction altogether?"
Lord Morrow said the figures for his assembly constituency of Fermanagh South Tyrone where particularly shocking.
With 768 outstanding warrants it has the second highest number after Belfast. Six hundred and fifty one of these have been outstanding for over 12 months.
The DUP man said he had submitted a further question to find out how many of those under an arrest warrant had been released on bail.
"There needs to be much stronger co-operation across all borders and tougher sentences for those who deliberately harbour wanted fugitives," he added.
"These figures must be tackled as a matter of urgency."