Bail for man accused of smuggling drugs with MTV logos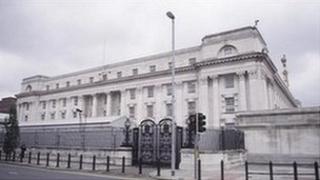 A chef accused of smuggling 8,000 suspected ecstasy tablets bearing MTV logos has been granted High Court bail.
Anthony Lowndes, 24, was arrested with another man in Belfast after police stopped a car containing drugs with an estimated street value of £80,000.
Police suspected the batch was for fast distribution, as the haul coincided with the MTV EMAs on Sunday.
There is no suggestion of MTV having any involvement with the drugs.
It is alleged that the consignment was picked up in Co. Monaghan and then brought across the border on 23 October.
Lowndes, 24, of Grays Park, Belfast, faces charges of possession with intent to supply and importation of Class A drugs.
He is also accused of motoring offences, including taking his partner's car without authority.
Haul
The High Court heard on Monday that he claims to have been unaware any drugs were in the vehicle.
According to the prosecution his co-accused made similar denials, and said he thought he was picking up steroids to earn £500.
A barrister for Lowndes disputed the £80,000 valuation put on the suspected ecstasy, contending that it was excessive.
The haul could be worth less than £10,000, even if proven to be proper drugs, he argued.
Lord Chief Justice Sir Declan Morgan was told that test results from the forensic science laboratories are not due back until February.
The judge acknowledged the seriousness of the importation charge, but pointed out that Mr Lowndes could spend a year in custody before any case goes to trial.
He ruled that the accused should be granted bail after balancing his right to liberty against the risk to the public.
Mr Lowndes was ordered to obey a night-time curfew and banned from being in a car unless driven by his partner.