Dundonald High School pupils 'told to remove poppies'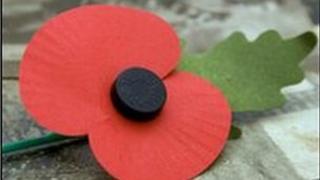 An Ulster Unionist MLA has said he has been contacted by parents of Dundonald High School students, claiming pupils have been told to take poppies off.
David McNarry has sent an email to the school asking if this was true and what the school's policy on wearing poppies was.
He said he had yet to receive a reply from it.
The school told BBC Radio Ulster that it was unable to comment on individual cases.
"However where parents have concerns, Dundonald High School is always willing to discuss such concerns," it said.
"The school has extended an invitation to do so in this case."
Mr McNarry said he wanted to see the matter "nipped in the bud" before it had the potential to escalate. He said it had involved four pupils and one teacher.
"What the parents are telling me is that the children have been refused entry into the classroom while wearing a poppy," Mr McNarry said.
"The reaction I'm getting from parents is one of shock.
"If there's no truth in this then let Dundonald High School say so."
Mr McNarry said the school should be teaching pupils about why the poppy is sold and why people would want to wear it with pride.