CRH moves stock market listing from Dublin to London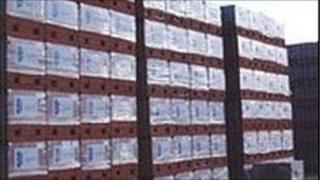 One of Ireland's largest companies is to move its main stock market listing from Dublin to London.
Building materials company CRH said from Wednesday morning its ordinary shares listed in London will trade in pence rather than in euro.
The company said it believed FTSE inclusion would result in a further increase in UK and international investor awareness of CRH.
CRH shares will retain a secondary listing in Dublin.
The move could raise concerns about the long-term sustainability of the Irish stock exchange, the ISEQ.
CRH accounts for 23% of the ISEQ and the the banking crisis has already seen a big reduction in the volume of trading on the exchange.
CRH chief executive Myles Lee said: "We believe that these listing arrangements are in the best long-term interests of CRH and will increase the group's attractiveness to a wider international investor base.
"These changes will have no impact on the operations of the group. CRH remains headquartered, incorporated and tax-resident in Ireland."
CRH, which is valued at more than 9bn euros, operates around the world.
In Northern Ireland it owns Farrans, Northstone and Tyrone Brick.
The company has reported like-for-like sales growth of 5% in the first half of 2011 and 4% in the third quarter.
The company said its pre-tax profit and earnings per share for the full year of 2011 was likely to be well ahead of 2010.