Prison Service hopes over 500 prison officers over 50 will retire early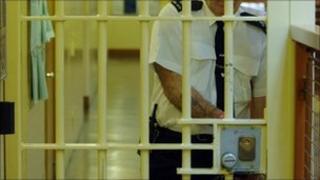 The Prison Service has published details of a redundancy scheme that will cost around £60m over the next two years.
Justice Minister David Ford said it is hoped that more than 500 prison officers aged over 50 will volunteer to retire early.
Those who do will receive almost three years' salary.
Almost 1,800 prison officers work with just over 400 civilian staff supervising fewer than 1,600 prisoners.
More than 600 of them are aged over 50 and are eligible to apply for the redundancy scheme announced on Tuesday.
Mr Ford said the plan was "effectively invest to save"
"Spending money over the next couple of years to make substantial savings, as well as providing a better service, as well as recognising the commitment of those who served in past times and refreshing the service.
"It is, I think, a quadruple win on that basis," he said.
Colin McConnell, director general of the Northern Ireland Prison Service, said the move was part of wider plans to transform the service.
"The scheme launched on Tuesday gives us the opportunity to allow some of our staff who have been in the service for many years to make some informed choices about whether they want to stay with a significantly transformed NIPS in future or perhaps where they want to leave our service and move on to pursue other interests," he said.
"I think it is a critical issue for the NIPS, it is an important day for the NIPS, and I think the package that is being brought forward is a fair and balanced one.
"It is not just simply about making the organisation smaller or cheaper.
Sacrifices
"It really is about end-to-end changing the way the Northern Ireland Prison Service works."
Jim Wells, DUP justice committee member, said it was important to remember the sacrifice that many prison officers had made.
"We have lost 29 of them who were murdered, many of them have been attacked, some have had bombs placed under their cars," he said.
"These man have given a lot to the community over the last 30 or 40 years and I think that should be recognised by an adequate scheme, but it has to be a fair one and it has to be voluntary.
"There has to be a system where if people wish to leave that's fine.
"My concern arises if it becomes compulsory and people who do not wish to leave the prison service are forced to do so."
Sinn Fein justice committee deputy chair, Raymond McCartney said Northern Ireland's prison system had to change.
"I see the need for people to leave the service, for new blood to come in to create a new atmosphere, because I think it's accepted that over many, many years customs and practices have led to the prison service not being run in the most efficient way," he said.
"That meant many prisoners who went into prison were never part of a proper rehabilitation service.
"We know that if we can prevent people from returning to prison how much that can save us in many many aspects in terms of monetary and social costs."
Payments to individuals will depend on salary and length of service.
An officer with 40 years service on a salary of £37,000 would receive a payment of just over £120,000, plus an annual pension of £18,500.
Finlay Spratt of the Prison Officers Association said the redundancy packages seemed reasonable.
"Considering the circumstances of the economic climate we're all living in, i think it's a reasonable offer at this point in time for those that want to leave the service," he said.
Cost
The prison service said its target is 540 redundancies and those who are eligible to apply have until 28 November to express an interest.
If that target is achieved, the scheme will cost an estimated £60m.
If there aren't enough volunteers, a scheme for prison officers aged under 50 will be announced next year.
More than 400 new staff will be recruited to new lower grades on lower salaries.
Mr Ford said the changes will generate savings of £180m over the next 10 years.
The annual cost of keeping a prisoner in Northern Ireland is £95,000 - more than double the cost in England, Scotland and Wales.
A report published in February said despite the high costs, the Northern Ireland Prison Service was dysfunctional, demoralised and ineffective.
Dame Anne Owers and her review team said fundamental change was needed, including a redundancy scheme for prison officers.