Value of Victoria Square drops by £29m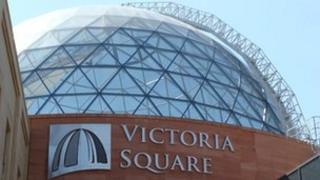 The Victoria Square shopping centre in Belfast has fallen in value by £29m in two years.
The details are contained in financial statements of CGI Hausinvest, the German property fund which owns the centre.
At the end of 2008 the centre was valued at £349m but by September 2010 its value was listed as £320m.
The fall of 8% is relatively low compared to the fall in value of other property assets across Ireland.
For example, the Castlecourt shopping centre in Belfast was recently offered for sale at £170m, half of what it was valued at just two years ago.
Even at that lower price it could not attract a buyer.
Victoria Square opened in 2008 in the face of a recession, however, it has largely weathered the storm and is more than 90% let.
The CGI accounts show that the centre's rental income for 2010/11 is expected to be £17.5m, rising to £18.8m in 2011/2012.
In 2003, CGI effectively bought the centre 'off-plan' from the Dutch developer Multi for £270m.
CGI Hausinvest is one of Europe's largest property funds with 126 properties in 19 countries, valued at around 11bn euros.