Londonderry hosts first health service review meeting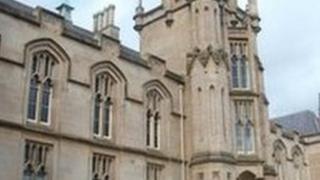 Londonderry will host the first of six public meetings on the future of the health service in Northern Ireland on Tuesday night.
A review of health and social care in Northern Ireland was ordered by the Health Minister Edwin Poots in June.
The review team is headed by the chief executive of the Health and Social Care Board, John Compton.
The first of six public meetings takes place in the Great Hall of the University of Ulster Magee Campus.
The review team has already consulted with politicians, health care staff, volunteers and a variety of other people involved in providing health care across Northern Ireland.
Mr Compton and his team are keen to hear from the public.
"This review is a once in a generation opportunity to reshape the health and social care system and its importance in bringing about radical and much needed change cannot be underestimated," he said.
"We have set about engaging all those who have a part to play in the delivery of these services and wish to ensure we hear the views of the public who engage with health and social care either directly or through family and friends. "
There will be further public meetings in Omagh, Ballymena, Belfast, Lisburn and Armagh.