NI planning enforcement 'a farce'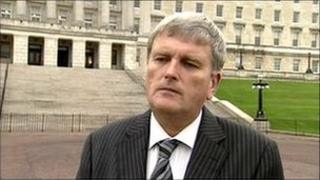 The DUP's Jim Wells has described the enforcement of planning policy in Northern Ireland as "a farce".
Proposing a assembly motion for a review of the system, the South Down MLA said he felt there had been no improvement in the area during his 30 years as a politician.
Mr Wells claimed there was "nobody out there enforcing anything".
He said he was concerned about people's "blatant disregard for the law" when they build without permission.
He announced that 83% of retrospective planning applications are approved, a figure which he said was much higher than those who ask before building.
In response to a question from Kieran McCarthy of the Alliance Party, Mr Wells said only 13 buildings built without planning permission had been pulled down in 38 years.
He blamed staffing for many of the problems, claiming that 50 officers had to deal with new cases coming in at a rate of 4,000 a year.
The SDLP's Patsy McGlone highlighted a further problem with inconsistencies by regional planning offices in dealing with enforcement.
Environment Minister Alex Attwood said Mr Wells' "dramatic statement" that there had been no improvement in 30 years "was a signpost of unease".
He agreed that the number of staff dealing with planning enforcement was "very small and their burden was very large".
Mr Attwood made assurances that a Criminal Justice Inspectorate (CJI) report reviewing enforcement within the department was due within days and would be shared with the committee when ready.