St Mary's Rasharkin GAA members expelled over ref attack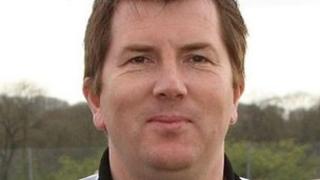 The GAA has expelled one player, two club members and a member of the coaching staff of a team after an attack on a referee last month.
Ray Matthews was taken to hospital after being assaulted at the end of an Antrim Under-21 championship semi-final game in Ballymena.
Ten people have been handed down various punishments as a result.
All are from St Mary's Rasharkin. The sanctions ranged from four-week suspensions to recommended expulsions.
The club will be excluded from all competitions, above, but not including, minor (under 18) level in all codes for one year.
Six St Mary's players were punished; two received four-week suspensions, one an eight-week suspension, one a 72-week suspension, one a 96-week suspension and the other has been recommended for expulsion from the GAA.
A member of the coaching staff is also to be expelled, as are two other members of the club.
Another club member has been suspended for 96 weeks and a fan barred from entering GAA property for the same length of time.
It is understood that a linesman was also injured during the incident.
It is believed both men were attacked as they made their way back to the changing rooms following the game between Lamh Dhearg of Belfast and St Mary's.
Mr Matthews was taken to casualty for assessment but was later discharged.