Man appears in court over 2005 Newry murder of Jonathan Graham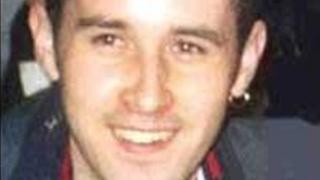 A 35-year-old man has appeared in court charged with murdering Jonathan Graham in Newry in April 2005.
Mr Graham, 20, was shot as he sat in his car outside his home in Ardcarne Park. He underwent emergency treatment but died later.
Bernard Joseph Higgins, 35, from Donagh Grove, Warrenpoint was refused bail.
Two other men, Gerald Haw and James McEvoy, appeared in court last month charged with Mr Graham's murder.
Mr Haw was granted bail on Wednesday.
The killing of Mr Graham was the second of four shootings within minutes of each other that took place that night in Newry.
A PSNI detective told Newry Magistrates Court on Wednesday that the murder related to a six-month long feud between Mr Higgins and his two co-accused, and Mr Graham and his associates.
A police officer said it was to do with girlfriends and ex-girlfriends.
The court was told a witness had come forward who had identified the three accused in a car in Newry on the night of the shooting.
Police believe the same car was used in all four shootings.
The detective said police had received several strands of new evidence including forensic evidence and CCTV footage not available at the time of the shooting.
The district judge refused bail on the grounds that Mr Higgins might reoffend, flee the jurisdiction or interfere with witnesses.
He was remanded in custody to re-appear with his co-accused on 23 November.