Gerry Armstrong warns Derry footballers about Republic switch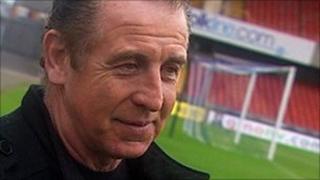 One of Northern Ireland's most famous former internationals has appealed to Londonderry footballers to resist the lure of the Republic of Ireland.
Gerry Armstrong was speaking to pupils at St Columb's College on Wednesday.
The star of Northern Ireland's World Cup campaign in Spain in 1982 has a new special role with the Irish Football Association (IFA).
He is trying to stop young players from Northern Ireland choosing to represent the Republic.
Manchester United midfielder Darron Gibson is a former pupil of St Columb's College and the most high profile footballer to opt for the Republic over his native Northern Ireland.
Other Northern Ireland-born players, such as Stoke's Marc Wilson and Preston North End's Daniel Devine, have more recently left the IFA set-up.
The 1998 Good Friday Agreement ruled that anyone from Northern Ireland can designate themselves to be British or Irish and FIFA have recognised this by letting players decide to pursue an international career with the Republic.
Armstrong, a Catholic from west Belfast, told Radio Ulster that he would "never have considered" playing for the Republic. He said he was "very proud" to have represented Northern Ireland at two World Cups during the 1980s.
Now, he wants to make young men from the nationalist community aware of all the options.
National identity
"I can't change people's minds. If there's a boy who has decided that he wants to play for the Republic there's nothing I can do," he said.
"If he's determined and his family and he want that, then I wish them all the best.
"But I just want to point out that it's not always the right decision because some of them have actually made the change and regretted it and been able to reverse the decision to come back to play for Northern Ireland.
"But that is not always going to be the case, so I am just trying to make them aware of the pitfalls. Sometimes it looks greener on the other side of the fence."
And Armstrong also wants to see the timing of such decisions altered.
"Can we not defer the boys making the decision until they are 20 or 21?
"Until they are old enough and understand what it is all about. I think at 16, 17 or 18, it is far too young.
"They are learning about life, about football and some of them still don't know what their identity is, so I would like to see it deferred and they can make their decision later on."