Family of air crash victim Eithne Walls give up hope on body return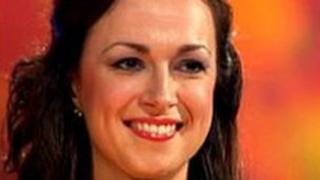 The family of a Northern Ireland woman who was killed in an Air France plane crash in 2009 have said they have given up hope of her body being recovered.
Eithne Walls, a doctor from Ballygowan in County Down, was one of 228 people who died when the jet travelling from Rio de Janeiro to Paris crashed into the Atlantic.
French aviation authorities have now identified 153 victims.
Dr Walls, who was 28, was not among them.
She worked in the Dublin Eye and Ear Hospital, and was also a talented Irish dancer.
She had spent a year with Riverdance on Broadway, New York, before going on to university.
Dr Walls was travelling with two friends from the Irish Republic when the crash happened on 1 June 2009.
The body of Jane Deasy from Dublin was among 50 recovered at the time of the tragedy, but there is still no trace of Aisling Butler from Roscrea, County Tipperary.
The three women had graduated in medicine from Trinity College Dublin in 2007 and were returning from holiday.
A Walls family statement said: "It has always been our most fervent wish that Eithne would be brought home to us and we are intensely saddened that she has not been found.
Tests
"The last glimmer of hope for her return to us has now been extinguished and we must now take time to reconcile ourselves to this further devastating news.
"We take some comfort from knowing that Eithne is not alone and is resting with her close friend, classmate and colleague Aisling.
"Our thoughts and prayers are with Aisling's family and the families of all passengers.
"We mourn Eithne's loss every day and we mourn the future that we will never have with her."
The family said it prayed that the continuing investigation would "clearly and comprehensively reveal the cause of the accident" and ensure it is not repeated.
France's air transport police have revealed that tests conducted last week succeeded in identifying 103 of the victims whose remains were brought up from the crash site in April.
Those were in addition to the 50 victims who were found and identified immediately following the crash of the Airbus 330.