St Mary's Rasharkin GAC violence 'worst seen in 25 years'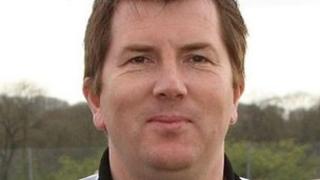 A match official who witnessed the assault on a GAA referee during a game last month has said it was the worst violence he has seen in 25 years.
Police are investigating the assault on Ray Matthews at the end of an Antrim Under-21 championship semi-final game in Ballymena.
The GAA has handed down some of its stiffest ever sanctions to St Mary's Rasharkin whose members were involved.
Former referee Pat McCaffrey said it was the worst he had seen.
"I have to say, if the Lamh Dhearg (the other club involved in the match) people hadn't have been there, we wouldn't have stood a chance," he said.
Mr McCaffrey said that while he wouldn't go so far as to say he feared for his life, he did fear "a good kicking".
The GAA has expelled one player, two club members and a member of the coaching staff of St Mary's.
The club will be excluded from all competitions, above, but not including, minor (under 18) level in all codes for one year.
Six St Mary's players were punished; two received four-week suspensions, one an eight-week suspension, one a 72-week suspension, one a 96-week suspension and the other has been recommended for expulsion from the GAA.
A member of the coaching staff is also to be expelled, as are two other members of the club.
Another club member has been suspended for 96 weeks and a fan barred from entering GAA property for the same length of time.
The club has three days to lodge any appeal against the sanctions.
It is understood that a linesman was also injured during the incident.
It is believed both men were attacked as they made their way back to the changing rooms following the game between Lamh Dhearg of Belfast and St Mary's in which three of the Rasharkin players were sent off.
Mr Matthews was taken to casualty for assessment but was later discharged.