Nama art pieces auctioned for $857,000 in New York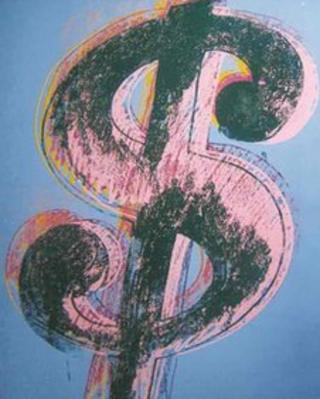 It has regularly sold off houses, apartments and even land in other countries.
But in a first for the Irish Republic, the National Asset Management Agency (Nama) has now entered the art world.
On Wednesday night Nama attempted to sell three pieces of art once owned by failed property developer Derek Quinlan.
Only two of the paintings sold but they proved quite a windfall for the Republic, as it attempted to claw back some of Mr Quinlan's debt by selling off his assets.
The 'Dollar Sign' painting by Andy Warhol fetched $782,500 (£493,000) when it went under the hammer at the Christie's auction house in Manhattan's Rockefeller Plaza. The 1981 painting had an estimate of $400,000- $600,000.
Mr Quinlan is believed to have bought the Warhol painting from the Yello Gallery in County Cork in 2006 for about 300,000 euros (£270,000)
The second lot, 'Arches Cover' by Robert Motherwell did not do quite as well but still sold for $74,500 (£46,930)
Bidding for the third painting, 'Ace Airport' by Alex Katz, stalled at $140,000 and failed to reach its estimate.
Proceeds from the sale will pay off some of Mr Quinlan's huge bank debt. All his loans have been transferred to Nama since he left the Republic two years ago.
Nama also seized various assets in his name, including his private collection of 16 paintings. Two of these have been acquired by the National Gallery of Ireland and Christie's were asked to auction the rest in New York and London.
The remaining lots, including works by Jack Butler Yeats, will go on sale in London next week.