Illegal cigarettes seized in Belfast searches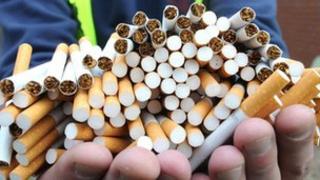 Illegal cigarettes worth an estimated £4,500 in unpaid excise duty and VAT have been seized by HM Revenue and Customs.
The find was made during a series of raids on properties in Belfast on Thursday.
Customs and police officers searched a house and a private vehicle in the east of the city where they seized 20,000 illicit cigarettes.
A further 500 cigarettes were seized in another search in south Belfast.
John Whiting of Revenue and Customs said: "Tobacco smuggling is organised criminality on a global scale and robs the taxpayer of millions each year in unpaid duty and VAT.
"Anyone with information about the storage or sale of illegal tobacco in their area should contact the Customs' hotline on 0800 59 5000."