Iris Robinson gets damages in Sunday World photos case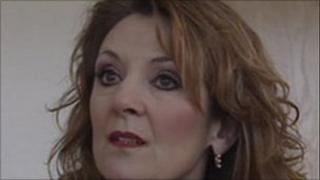 Former MP Iris Robinson is to receive damages for the publication of photographs taken while she received mental health treatment in London.
She has accepted an undisclosed sum and legal costs to settle her breach of privacy case against the Sunday World newspaper, her lawyer revealed.
Mrs Robinson is the wife of Northern Ireland First Minister Peter Robinson.
She quit politics in December 2009 after admitting she was battling depression.
It was then disclosed that the former Strangford MP had been having an extra-marital affair and attempted to kill herself.
She issued a writ for breach of confidence/misuse of private information, harassment and breach of her rights after the Sunday World published articles and photos of her in London during her treatment.
The case, which had also involved a bid to secure a ban on surveillance, was due to be heard over three days at the High Court in Belfast later this month.
Earlier this year Northern Ireland's most senior judge, Lord Chief Justice Sir Declan Morgan, ruled that it was to be held in private because the threat of self-harm or suicide could increase if any information leaking out on social networking sites.
But the need for a behind-closed-doors hearing has now ended.
Mrs Robinson's lawyer, David Craig of Johnsons Solicitors, disclosed on Friday that the action has been resolved.
He said: "Our client can confirm that she has accepted the Sunday World's offer to pay substantial damages and costs in respect of her privacy claim following the publication of a series of photographs and articles relating to her in April 2010, during in-patient medical treatment for her mental health.
"Mrs Robinson was extremely reluctant to resort to litigation, but was compelled to do so as a result of this breach of her privacy and to protect herself from further intrusion into her private life."
Mr Craig added: "She is satisfied with the outcome of these proceedings and hopes that she can now be left alone to continue her treatment and rehabilitation."