Stormont Assembly to debate impact of farm subsidy fines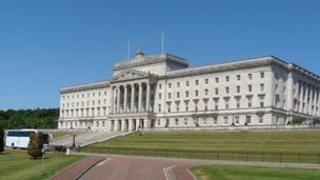 The Stormont Assembly is to debate the impact of fines imposed on the Department of Agriculture over failures in the administration of European Union farm subsidies later.
Agriculture Minister Michelle O'Neill will not be present at the debate.
She had previously agreed to be in Brussels for talks with EU Agriculture Commissioner Dacian Ciolos.
She is to make a statement next week in the Assembly on farm subsidy fines which could amount to £100m.
The bill follows audits by the European Union into single payments to farmers dating back to 2005.
The Department of Agriculture has already accumulated £64m in farm subsidy fines, covering a three year period starting in 2005.
But the assembly's agriculture committee has been told that EU auditors are now looking at three more recent years and the fear is an additional £45m in fines could now be imposed.
Ms O'Neill has said her department is working hard to correct the problem.