New Irish President Higgins visits Londonderry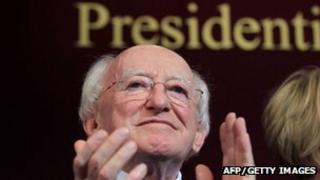 New Irish President Michael D Higgins made his first official visit to Northern Ireland on Sunday evening.
Mr Higgins attended the All Island School Choir of the Year competition at Londonderry's Millennium forum.
Belfast's Victoria College was one of the four schools to sing in the final. The winning trophy, however, went to Wesley College in Dublin.
Earlier on Sunday, President Higgins attended a Remembrance Sunday service at St Patrick's Cathedral in Dublin.
The two appointments were his first formal engagements following his inauguration in Dublin Castle on Friday.