Londonderry man 'hid illegal drugs in his underwear'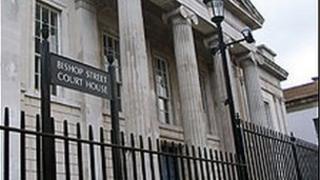 A man stopped in a stolen jeep had £560 worth of the illegal drug mephedrone in his underwear, Londonderry Magistrates Court has been told.
Police on duty for a Remembrance Day service in Limavady stopped the jeep being driven by 21-year-old Daniel Deery of Ernest Street, Londonderry.
During a search, a bag containing the drugs was allegedly found in Mr Deery's underwear.
He was remanded in custody until 25 November.
Mr Deery faces charges including possessing 28 grams of mephedrone with intent to supply, driving a stolen jeep, driving while disqualified, driving without insurance, and obstructing police.
All the offences are alleged to have occurred at Catherine Street in Limavady on Sunday.
A police officer said that during his interview, the defendant admitted that messages on his mobile phone related to drugs.