Mr Tumble to switch on Christmas lights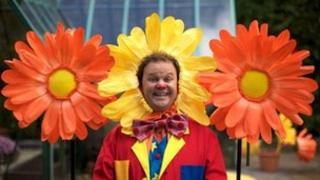 The chances are if you don't have a child of pre-school age, the words "Mr Tumble" may mean nothing to you.
But that could all change this weekend.
The man behind the popular children's' TV character is set to receive a rapturous reception from parents and children alike, when he arrives in Belfast to switch on the Christmas lights.
Justin Fletcher, who plays the clumsy clown, will carry out the honour at the City Hall.
Along with winning a Bafta and being appointed an MBE for his performance on the popular Cbeebies programme Something Special, Justin has also been credited for changing the way people think about children with learning difficulties.
The show sees Mr Tumble interact with youngsters with special needs through song, dance and play.
"Mr Tumble is my hero," said Dympna Meikelham who is a teaching assistant at Harberton Special School in Belfast.
"Sometimes I will sign something and a child will say, that's not what Mr Tumble does.
"He is not just for children with special needs, he has just opened up that aspect of communication. While it does help children with speech delay it also helps everyone to communicate together," she added.
Justin will switch on the Christmas lights at Belfast City Hall at 18:00 GMT on Saturday 19 November.