MPs from Northern Ireland back calls to cut tax on fuel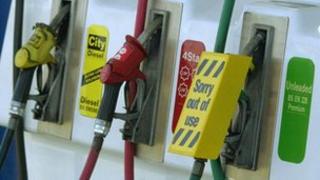 It is hardly surprising that our local MPs have all supported a motion to stem fuel price rises amid a public outcry over costs.
It is an issue that effects nearly every voter and in these straightened economic times anything that can reduce peoples outgoings will understandably have popular support.
Given Northern Ireland's reliance on private transport it is also a subject that many politicians know they must approach carefully.
One of our MPs said they had received 60 emails on the subject in recent weeks. The issue arrived at the floor of the Commons after an e-petition was signed by more than 100,000 people.
The motion, brought by Tory MP Robert Halfon urged ministers to consider whether current fuel tax rates are competitive and what impact they are having on the economy.
The move comes as the government prepares to increase fuel duty by 3p a litre in January - resulting in an extra £1.50 to fill an average car. It also means that petrol prices have tripled in the past two decades.
The motion initially received the support of more than 100 MPs including the DUP's eight strong parliamentary team.
Illegal trade
North Belfast MP Nigel Dodds said Northern Ireland was the most expensive region in the UK to buy petrol.
It is a view shared by the SDLP MP Mark Durkan. He said the government must act and cannot "keep blaming Labour for price rises".
The North Down Independent MP Lady Hermon is also supporting the motion.
She believes the planned duty rises should be halted.
There are also worries that increased fuel prices will simply benefit smugglers who bring in cheaper fuel from the Republic of Ireland.
The Northern Ireland Affairs Committee is currently investigating fuel smuggling and some politicians feel that price increases in Northern Ireland could increase the illegal trade.
DUP MP Ian Paisley ,a member of the NI Affairs committee told MPs during the debate that government taxation policy actually "encouraged fuel smuggling".
In March's Budget, Chancellor George Osborne scrapped the annual fuel tax escalator - a mechanism under which duty rose by 1p above inflation every year - and cut fuel duty by 1p.
The government has claimed that prices would be even higher had they not scrapped automatic fuel-tax increases imposed by Labour.
But the Shadow Secretary of State for Northern Ireland Vernon Coaker disagrees said the government could make obvious changes.
"I have supported our call for a temporary reduction in VAT from 20% to 17.5%. If the government did this it would reduce the price of petrol by 3p a litre, a boost for everyone," he added.
This motion has raised an issue that has clearly struck a nerve with voters.
The debate won't necessarily change policy, but as Tony Blair discovered it is an area where politicians have to tread very carefully.