Supergrass trial: judge reveals member of public intimidated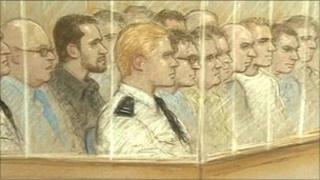 The judge hearing the UVF supergrass trial has told the court it had been brought to his attention that a member of the public has been intimidated.
Mr Justice Gillen said there would be consequences if it happened again during the trial.
Earlier David Ian Stewart, one of two brothers who are testifying against 14 men was cross-examined.
Nine of those in the dock are accused of the murder of Tommy English 11 years ago.
The UDA leader was gunned down in front of his wife and children in his Ballyduff home on Hallowe'en night 2000.
David and Robert Stewart are testifying against 14 men, including alleged former north Belfast UVF leader Mark Haddock.
The brothers were given massively reduced sentences for their part in Mr English's murder in exchange for their testimony against the defendants.
Earlier defence QC Frank O'Donoghue continued his cross-examination of David Ian Stewart.
Previously David Stewart has claimed he was present in a New Mossley flat when the murder was planned over crisps and coke, alleging that when Mark Haddock asked for volunteers to carry out the shooting, Mr Loughlin, Mr Wood, Mr Bowe and Mr Moore all stepped up to do it.
He has also claimed that Haddock and Mr Miller produced a shotgun and handgun respectively.
On Tuesday, Mr O'Donoghue put it to David Stewart that his account was "a complete concoction" and had come from his imagination.
Mr Stewart refused the suggestion, telling the lawyer "no it's not, it's the truth" and claiming there were differences between interviews he had with investigative police and his evidence because "I was just trying to get things straight in my head".
"This is just me trying to remember what happened and it just took some time to do so," claimed Mr Stewart.
"I spent a lot of time trying to forget things over the years and took a lot of prescription drugs but while in prison and through the interviews I started to remember exactly what happened."
The trial is the biggest and most expensive to be held in Northern Ireland for many years.
The 14 defendants are being represented by 24 barristers and eight firms of solicitors.
Both the UVF (Ulster Volunteer Force) and UDA (Ulster Defence Association) are loyalist paramilitary groups responsible for the murder of hundreds of people during the Troubles.
The term supergrass was first used in Northern Ireland in the 1980s when a number of terrorist suspects were convicted on the evidence of former paramilitaries.