Warrenpoint Golf Club members could get £524 if it is sold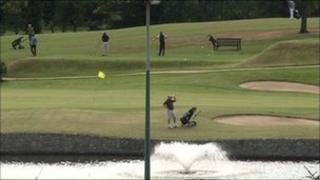 A Newry court has heard that if Warrenpoint Golf Club cannot pay its debts and is sold, the most members could expect to get is £524 each.
In 2005, the course and clubhouse was valued at £4.1m and 900 members each paid £4,500 to buy it.
The arrangement was that if a member left the club, they would be repaid the £4,500 within six months.
The court was told that in 2009, the club ran into financial difficulties and could no longer refund members.
Now three former members have taken legal proceedings against the club to get their money back.
The golf club had offered to repay them in stages over a five-year period, but this was refused.
Warrenpoint Golf Club is now valued at £1.5m.
Members of the club are expected to meet soon to discuss various possible solutions to their financial problems.
The case was adjourned until next month.