Irish Prime Minister Enda Kenny in Belfast visit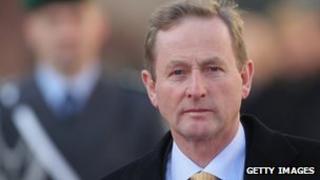 The Irish Prime Minister, Enda Kenny, is visiting Belfast on Thursday in his first trip to the city since assuming office.
His first engagement was a courtesy call on First Minister Peter Robinson and Deputy First Minister Martin McGuinness at Stormont Castle.
He also visited two community projects on the Newtownards Road and the Short Strand in east Belfast.
Mr Kenny is to meet murdered solicitor Pat Finucane's widow Geraldine.
He is expected to meet her at the Aisling awards, which champion Belfast as a changing city, and are taking place in the Europa Hotel.
Mr Kenny is attending the East Belfast Mission on the lower Newtownards Road.
There he met a number of senior loyalists including Progressive Unionist Party leader Billy Hutchinson and Winston Rea as well as church and community leaders.
He will meet the Lord Mayor of Belfast, Niall O Donnghaile, and community representatives in the Short Strand area.
The taoiseach also has a series of engagements planned for Friday including a meeting with Belfast City Council members, before he attends the plenary meeting of the North South Ministerial Council in Armagh.