Natasha Nalty admits punching officer at Strandtown PSNI station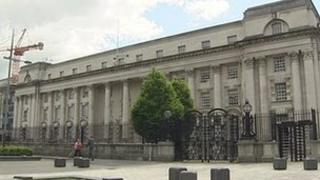 A woman with 40 convictions for assaults on police punched an officer as her alleged robber boyfriend signed bail, the High Court has been told.
Natasha Nalty inflicted cartilage damage to the victim's nose at Strandtown station in east Belfast.
Her boyfriend fled the scene and is still at large.
Nalty, 23, with an address at Castleroe Road, Coleraine, has pleaded guilty to a charge of assault on police and is due to be sentenced next month.
Her bail application was refused due to concerns she will re-offend if released.
The court heard she had accompanied her boyfriend, who is facing two charges of robbery, to the station.
He was said to have taken drink and was about to be arrested for breach of a bail condition when she lashed out, Lord Justice Coghlin was told.
Conor Maguire, prosecuting, said: "This applicant struck one of the officers involved with a closed fist.
"No warning was given and the officer struck was unaware that there was any danger. The applicant attacked this officer on his blind side."
At first it was believed the victim's nose had been broken.
He has since been diagnosed with cartilage damage, and was off work for three days.
131 convictions
Although Nalty was arrested, her boyfriend made off from the scene.
Mr Maguire added: "Police believe that was this applicant's motivation, to create a significant distraction. He's still at large."
The judge was told that Nalty has 131 convictions on her criminal record, including 40 counts of assault on police.
Her barrister, Richard McConkey, confirmed she has pleaded guilty to the latest incident.
He said Nalty is now in discussions over possible anger management treatment.
Mr McConkey added: "The man signing bail wasn't the only person consuming alcohol. She tells me she was drunk.
"It was a very bizarre, spontaneous act to lash out in this way."
Refusing bail, Lord Justice Coghlin commented: "This is a clear case of someone who is a threat at least to members of the police, if not to the rest of the country."