Dublin fire risk flats developer Tom McFeely wins jail reprieve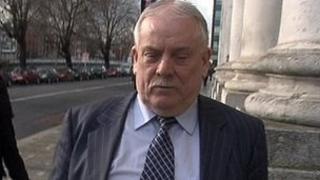 A County Londonderry developer given a three month jail sentence for not complying with a fire safety order has won a reprieve pending appeal.
Tom McFeely, a director of Coalport Developments, was also fined 1m euros for contempt for failing to remedy fire risks at a Dublin apartment complex.
Priory Hall was evacuated in October, with 240 people put up in hotels.
On Thursday afternoon, the Supreme Court agreed that the sentence should be stayed pending a full appeal.
The court said that the deadline for completion of the works was not until 28 November and Mr McFeely, a former IRA hunger-striker originally from Dungiven, could not carry out the works because he had been ordered off the site earlier in the month.