Derry man jailed for hammer attack on ex-wife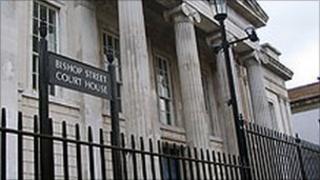 A 45-year-old man has been jailed for three years and four months after he attacked his ex-wife with a hammer.
Londonderry Crown Court was told that Leslie Joseph Gillespie, from Glenabbey Mews, forced his way into her home in January and struck her on the shoulder with the weapon three times.
Judge Piers Grant said that the police had previously been called to their family home on over 20 occasions.
He said the courts would not tolerate attacks on women by bullies.
Judge Grant said that, in determining Gillespie's sentence, he took into account the fact that he was already under a suspended sentence for another attack on his ex-wife.
Gillespie must also serve 18 months on licence when he is released from jail.