Ministers' plea to Irish government over republican murder victims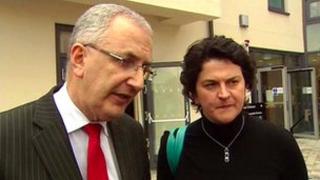 Two Stormont ministers have said the Irish government should acknowledge that previous administrations failed to protect murder victims from republican killers during the Troubles.
The UUP's Danny Kennedy and the DUP's Arlene Foster held talks with the Irish prime minister on Friday.
This followed Friday's North South Ministerial Council meeting in Armagh.
They handed over a dossier of 159 murders by republicans in south Armagh.
Mr Kennedy said "previous Irish governments had singularly failed to protect people and provide security along the border (between Northern Ireland and the Irish Republic) resulting in murder".
Mrs Foster said "the Irish government of the 1970s and late 1960s could have done a lot more to stop the campaign of genocide that was happening in Fermanagh, Tyrone, south Armagh and Londonderry".
"A lot of those murders took place in the dead of night and people were able to go with impunity back to the Republic of Ireland and therefore escape prosecution and justice," she said.
Irish Prime Minister Enda Kenny said he shared the sense of loss with regard to all victims and agreed to meet some of their relatives.
"I do share the sense of loss, the sense of hurt, the sense of yearning for the truth by the families of every victim on all sides," he added.
The meetings on Friday followed Mr Kenny's pledge on Thursday that he would lobby US and European politicians and the British government for a public inquiry into the murder of Belfast solicitor Pat Finucane.
Mr Finucane's widow Geraldine said she believed Mr Kenny's pledge to lobby US politicians could make prime minister David Cameron change his mind on the issue.
Mr Finucane, a high profile lawyer during the Troubles, was shot dead by Ulster Defence Association gunmen at his north Belfast home in 1989.
On Friday, Northern Ireland First Minister Peter Robinson said there should be "no hierarchy of victims".
Review
"While of course people will have every sympathy for Mrs Finucane, I extend my sympathy also to all of those thousands of people who have lost loved ones, who never had an inquiry and who never had anybody going to Europe or America to raise their case and they are just as important to me," he said.
The British government has said it accepts there was collusion in the Finucane case, but refused a full public inquiry on the grounds that a large amount of information was already available and a review was a quicker way of establishing the truth.
Last month, Mrs Finucane walked out of Downing Street after being told that the government was only offering the review, to be conducted by Sir Desmond De Silva.
Mrs Finucane said on Friday that the Baha Mousa inquiry showed that a probe need not be lengthy or overly expensive and that she had no confidence Sir Desmond's review would have sufficient access to confidential documents.
She said she understood the Chilcott Inquiry into the Iraq War had already encountered difficulty seeing classified papers.
Mrs Finucane met Mr Kenny on Thursday night at a civic ceremony in Belfast during which she was named "Person of the Year".