TUV leader Jim Allister urges SDLP and UUP to 'lose shackles'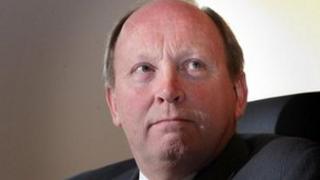 TUV leader Jim Allister has called on the SDLP and the Ulster Unionists to become opposition parties in the Northern Ireland Assembly.
Speaking at his party's annual conference in Cookstown, he said such a move was the first step towards making Stormont work.
"Take the first step essential to make Stormont work," he urged them.
"You have nothing to lose but the shackles that bind you to the failures of the present arrangements."
The North Antrim MLA also described the assembly as a cocoon of DUP/Sinn Fein rule.
He said the SDLP and the Ulster Unionists were "but fodder for DUP/SF".
Mr Allister said that as a place of government Stormont was "an unmitigated disaster".
He accused the DUP of doing whatever it took to keep SF happy and their own party in office.
"The lion is supposed to be the symbol of the DUP, but how IRA/Sinn Fein has tamed it and turned it into a roll-over pussy cat - only towards Sinn Fein of course," he said.
About 120 people attended the day-long conference which was addressed by a dozen speakers, including party president Willie Ross and Alex Elliott - cousin of UUP leader Tom Elliott.
In his speech, Mr Elliott referred to the recent controversy surrounding Orange Order members attending mass.
He warned that the debate around this issue could end up splitting the Orange Order.