Man shot in paramilitary style attack in Derry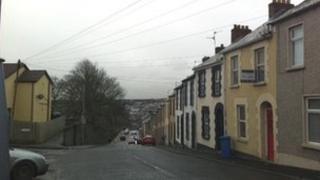 A man is recovering in hospital after he was shot in both legs in a paramilitary style attack in Londonderry.
It happened in a house in Creggan Hill at about 1830 GMT on Sunday.
It is believed the victim, who is 22, was shot in both ankles. His injuries are not believed to be life-threatening.
The parents of some children who were playing nearby said the gunmen threatened to shoot them.
"The wee ones were all out in the street, and two men in masks came out from the laneway and one of the wee boys said, 'Are you a robber'?
"He said the man in the balaclava replied 'Aye, get out of my way or I'll kill you', and then they ran off round the backs of the houses."
SDLP MLA Pat Ramsey said the Derry community was set against violence.
"This is a despicable act that has left the community of the Creggan Hill area in fear.
"There is absolutely no place for guns, punishment shootings or kangaroo courts in our society. I totally condemn this brutal attack."
'Covered in blood'
Neighbours on Creggan Hill said they saw "a lot of blood" on the ground.
"As he was being put into the ambulance he was covered in blood.
"He had his hands over his head and he was awake, so he seemed ok, I just hope to God he is."
Community worker Tommy McCourt said he condemned the shooting unreservedly.
"We do not believe in and do not support violence as a way of dealing with social issues.
"This should not be happening, and something needs to be put in place to stop this happening.
"Engagement is what has removed violence, and we need to engage with people to stop this happening."