Londonderry Memorial Hall paint attackers 'cowards'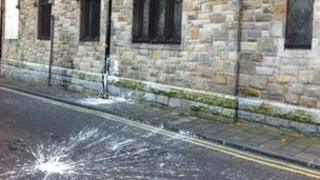 The Apprentice Boys' Memorial Hall in Londonderry has been attacked with paint for the second weekend in a row.
The police said a mobile patrol noticed paint had been thrown on the building Magazine Street on Saturday night.
It was also attacked with paint on 11 November.
The Governor of the Apprentice Boys, Jim Brownlee, said those behind the attack were "cowards who skulk in the dark and hide their faces".
"Why don't these people come and tell us what their problem is?
"They haven't got the courage to come along and tell us what's in their minds.
"This is purely sectarian.
"There has to be something positive put into their heads, because there's nothing there at the moment, it's purely negative."