Receiver's concern over Sean Quinn bankruptcy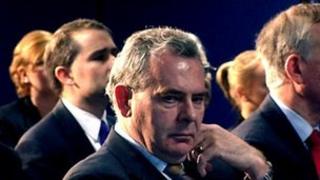 The receiver appointed to oversee Sean Quinn's bankruptcy has expressed concerns about the statement of affairs submitted to the High Court in Belfast.
Lawyers for the receiver told a court in Dublin that the statement appeared to be unsatisfactory.
The former Anglo Irish bank is trying to get loans of more than 2bn euros repaid by Mr Quinn.
However, the case has been complicated by Mr Quinn's recent bankruptcy declaration in Belfast's High Court.
On Monday, the official receiver sought to have the case in Dublin adjourned.
The bank is also bringing an application to have Mr Quinn's bankruptcy annulled, because the institution maintains his centre of interest is in the Republic and not Northern Ireland.
That case will go before the Belfast courts later this week.
By declaring himself bankrupt in Northern Ireland, Mr Quinn once believed to be Ireland's richest man - would only have to wait a year before going back into business, rather than 12 years in the Republic.
The 63-year-old was stripped of control of his manufacturing and insurance business empire in April.