Fishermen rescued from stricken boat in County Down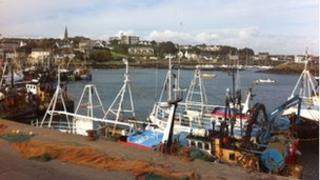 Four fishermen have been rescued after their vessel ran aground off the County Down coast.
The boat was making its way towards Ardglass harbour when it got into trouble.
The vessel, the Moy-una, sent a mayday call just before midnight on Monday.
The men on board evacuated to a life-raft, and were soon picked up by another fishing boat, the Three Coins. All are reported to be safe and well.
Gary Young of the Belfast Coastguard said: "The boat had hit rocks at the entrance to Ardglass harbour."
"The Portaferry lifeboat was dispatched, there was also a mayday broadcast made to vessels in the area which was responded to by a local fishing vessel called the Three Coins.
"They took the four men out of the life-raft and brought them into Ardglass harbour within half an hour of the original broadcast."
Mr Young said that weather conditions helped the rescue progress smoothly.
"The weather was pretty benign, there wasn't much wind or sea swell," he said.
The Moy-una later re-floated on high water and was later taken back to shore.