Paul Priestly's secondment queried by John Dallat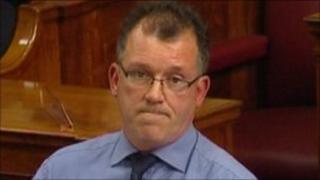 A new row has erupted over senior civil servant Paul Priestly, who was disciplined for gross misconduct.
Mr Priestly was formerly permanent secretary of the Department for Regional Development.
He has since been seconded to the private sector after being demoted to deputy secretary in June.
But a member of the assembly's Public Accounts committee, John Dallat has said Mr Priestly did not meet the civil service's criteria for secondment.
Mr Dallat said he wants to know how a civil servant - demoted for gross misconduct after being found to interfere with the work of the committee - was able to be seconded.
He has now written to the head of the civil service, Malcolm McKibbin, demanding an explanation.
According to Mr Dallat the qualifying criteria for secondment includes "a satisfactory record of conduct, performance and attendance".
He also pointed out that the secondment must be of benefit to the civil service and meet the business needs of the department or branch.
He alleges Mr Priestly fails to meet the criteria, adding: "In addition the head of the civil service refuses to say where Mr Priestly is working, other than to confirm he is in the private sector and that the taxpayers are bearing 46% of his salary."
Mr Dallat told the BBC there is too much secrecy surrounding the issue, and it is impossible to tell what benefit the secondment is to the civil service without more information.
A spokesman for the Northern Ireland Executive said they had no immediate comment to make, while a spokesperson for the Office of the First and Deputy First Minister (OFMDFM) said that they had not yet received a letter from Mr Dallat on the issue.