Portadown man Christopher Harper denies murdering wife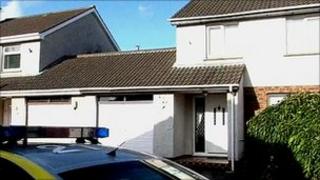 A court has heard a father-of-three stabbed his wife to death because she was going to leave him.
Christopher Harper, 45, denies murdering his 40-year-old wife Suzanne in August 2010 at their home at The Manor in Portadown.
Craigavon Crown Court was told Mrs Harper died from a single stab wound to the neck.
A prosecuting lawyer told the court Mr Harper went to police and told them he had "done something bad".
When asked if he had hurt someone, maybe his wife, he said he had but that it was "too late, she's dead".
Prosecution QC Margaret-Ann Dinsmore said that Mrs Harper had just returned to the family home after being at her mother's, and while away her husband had found a letter from the Housing Executive offering her a house.
The lawyer said that on the morning she had died, Mrs Harper had told her husband she was leaving him after "finding someone else, and that this wasn't working".
Mrs Dinsmore said he "stormed out of the room and got a knife", which he hid in the back of his pyjamas before returning to the bedroom.
"He got into bed beside her and she said, 'nothing is going to change'," the lawyer added.
There was then a struggle, and Mrs Harper was stabbed once in the neck.
'Rocking in chair'
Mrs Dinsmore said "an upset and distressed" Mr Harper then went to Lurgan police station, asking to speak to an officer about "a serious matter".
The first officer to question a crying, shaking Mr Harper, told the court he had spent up to 45 minutes teasing information out of him as he sat rocking in his chair rubbing his head in his hands.
Her duty sergeant also told the court that Mr Harper told her his wife was cheating on him and had done so before, but that he "didn't want her to leave".
He told the sergeant his dead wife could be found in "the bedroom" and that he had used "a knife".
"I tried to clean her and put a pair of socks on her because she doesn't like the cold," the sergeant said the accused had told her.
After being charged on suspicion of his wife's murder Mr Harper replied: "I didn't mean to do it, I'm sorry", before picking up a picture of his wife and daughter and kissing it as it was put in a bag with the rest of his belongings.
The trial continues.